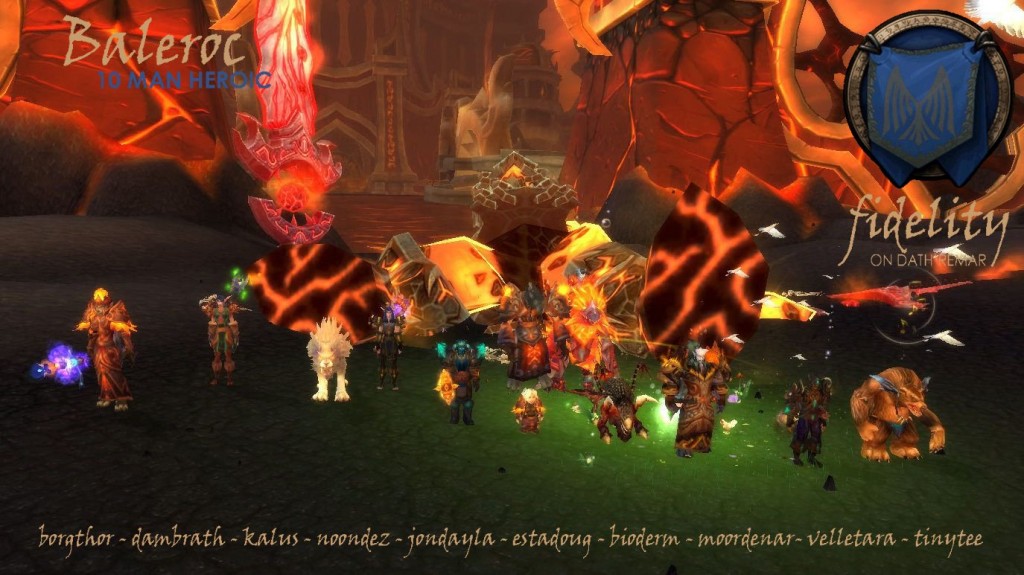 Our raid composition for Heroic Baleroc was a single tank, three healers, three ranged and three melee. We had planned to learn the mechanics with three healers, and drop down to two if the enrage timer turned out to be problematic.
The first couple of attempts were just chaotic. Spreading the tormented debuff, dealing with countdown, and inadvertantly refreshing timers debuff timers lead to a feeling of crushing despair as the entire raid became tormented and we could no longer deal with the shards.
However, as we learnt each lesson and gave ourselves plenty of space to handle the countdown mechanic, our attempts quickly gelled into a nice rhythm. We used two melee and two ranged DPS to deal with the shards, using the remaining two DPS to substitute in when countdown (and a refresh on a tormented timer) prevented the regular rotation. Having everyone able to communicate during the fight over mumble was key to our success, and it was great fun having the healers call their rotation onto our tank at the same time as we were organising DPS into the shard rotation queue.
Having three healers was fantastic, as it gave us the flexibility of rotatiing fresh healers onto the tank if the current tank healer became tormented. Three healers (when we generally only have have one tank healing at a time) leads to some very high vital spark stacks since healers are only on tanks at least one third of the time rather than at least one half.