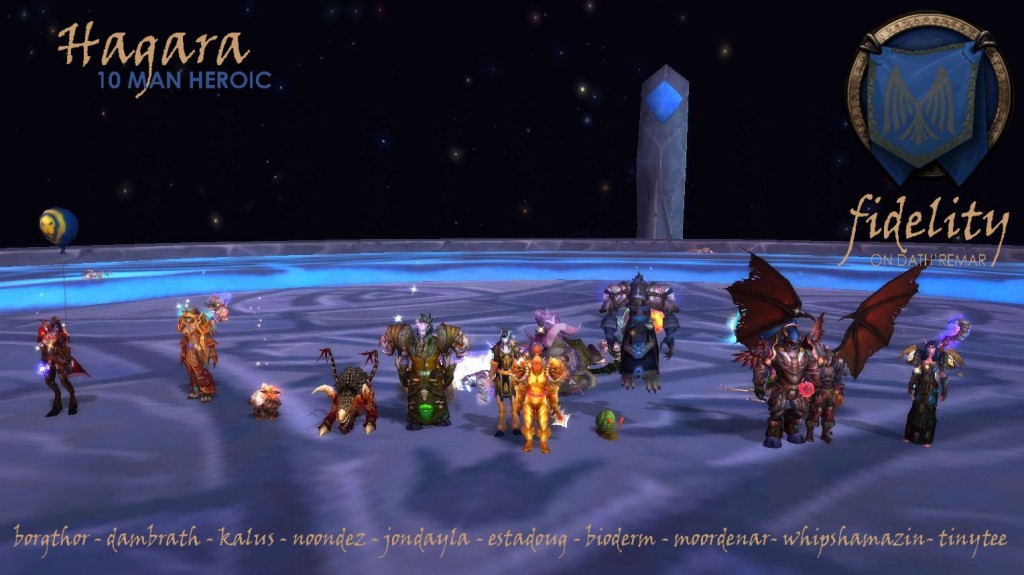 TL;DR. Check out this flash animation Whipshamazin produced for us to illustrate a great strategy for the lightning phase.
Heroic Hagara presented some interesting challenges, and although mechanically similar to the normal verison, the effects of the mechanics take a step up in the order of the difference between raid finder and normal modes.
For the initial phase, we tanked Hagara on the portal, and divided ranged and healers into three groups to intercept ice lance. The main advantage of this strategy is that only Dambrath is getting hit with shattered ice, rather than someone soaking ice lances. We didn't have many problems cleaving the ice tombs, although we found it useful to stack up just a little bit back from the boss to avoid line of sight issues.
In the ice phase, we had healers and ranged entrenched, while melee ran around whacking at crystals and getting dispelled just inside the water. It took a reasonable amount of time to perfect the execution of the phase, and learning to balance defensive and mobility abilities to get maximum DPS time on the crystals was a fun challenge.
We originally tried the lightning phase with a strategy that involved everyone chaining, and several secondary chains that needed to be completed. We would get close, but the damage from chaining, lightning storm and range issues was too great. Then Whipshamazin came to the rescue after finding this alternative strategy where 7 of the 8 crystal conductors are overloaded immediately. Whippy when went above and beyond to produce this flash animation, complete with labels for the core team. I can't really overstate how excited I was to see all our little dots moving over the hagara encounter map. An important aspect of this strategy is not just overloading the crystals, but avoiding unnecessary chains after overloading is complete. The best part of the strategy however, is that little orange dot in the middle, and having our own dancing tree, Jondayla right in the middle of it all.
Lastly, on our kill… we managed to get the boss to less than 2% before the ice phase hit. It was really great to see everyone focus and execute a whole extra phase before finishing off the boss. Dancing around melting crystals with the boss about to collapse makes this one of my favourite progression boss kills ever.