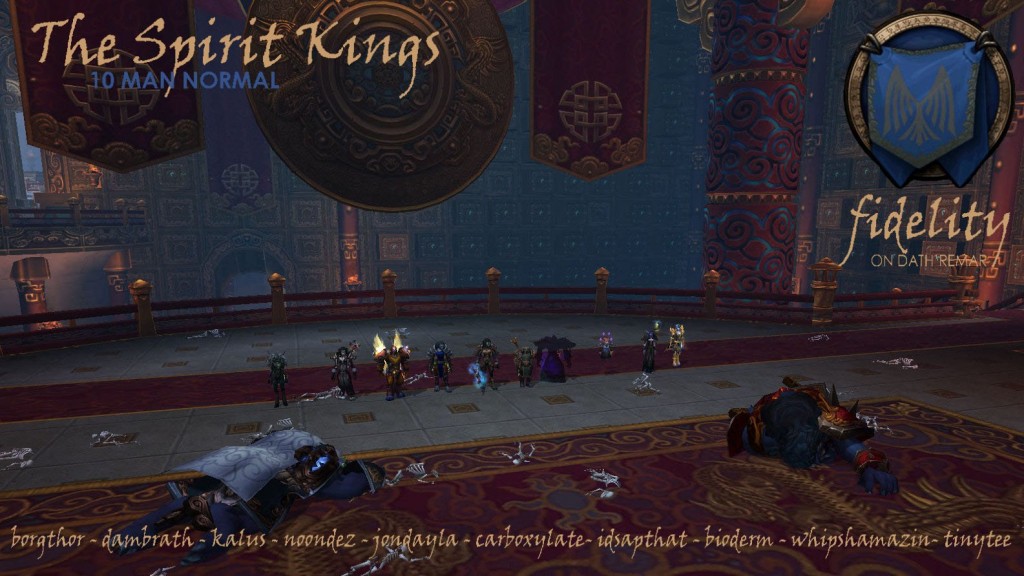 The Spirit Kings is a fun fight, with a little randomness thrown in with the differing order of the bosses. While there aren't too many guilds sitting on 3/6 progression through normal Mogu'shan Vaults, I was pleasantly surprised to kill the boss on our 9th pull, having learned the fight with 9 toons while we changed our personnel.
We used the widely recommended 1 Tank, 2 Heals and 6 DPS. I was relieved when I queued for Heroic Brewery before the raid and [Carbonic Carbuncle] dropped to complete my DPS set. Kalus also brought the pain for some shadowy goodness.
Qiang the Merciless is a nice simple start to the fight and a test on how good everyone can keep stacking while moving. It is probably the single least forgiving mechanic, as all the others combined aren't as difficult to deal with.
Meng the Demented's shout can be a little painful, as the desire to stack up so that you can AoE and immediately get back to the fight conflicts with some of the other mechanics. Interrupting or not for Crazy Thought was a little more straightforward than expected too.
Subetai the Swift's Volley was pretty easy to avoid, and we just spread out for Rain of Arrows and broke out those pinned.
Zian's Undying Shadows were mowed down by ranged DPS, and everyone seemed to enjoy kiting their own little ball around.
Towards the end of the fight things would get a little more hectic as the various mechanics that  carried over had to be dealt with at the same time, but overall certainly the easiest boss to learn so far.