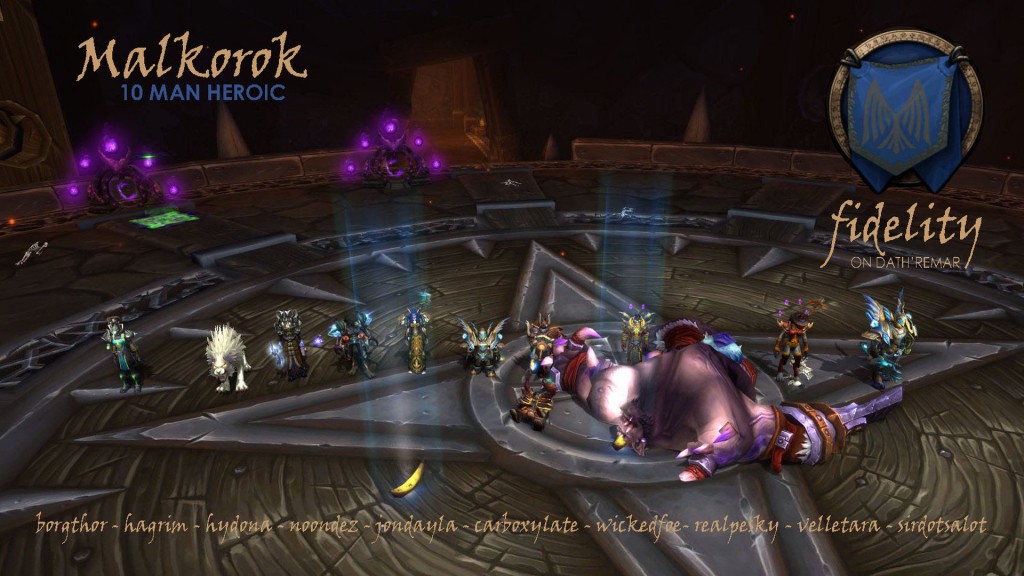 Heroic Malkorok was definitely a step up from both Iron Juggernaut and Nazgrim. We killed it in a similar number of attempts (54) as Shamans (44) but it definitely felt like it should have been quicker.
Malkorok is just one of those unforgiving fights. None of the mechanics is particularly complicated, and we had the pleasure of single tanking the blood rage as our resident Beard-Sprite stood firm against the assault. However, with all the balls, and the pass / fail on getting in the purple swirlies the fight is challenging.
On our kill we had not one… not two… but three warlocks. They were all narrowly eclipsed in DPS prowess by Esta and Vell on the kill, but the damage charts did have an impressive band of purple all within 1.5% of each other.
Two healing and solo tanking made the enrage timer a reasonable proposition. We positioned each healer either side of the boss, and positioned two DPS at intervals between each healer around the room. Since Esta is our only melee, we had a DPS spare for some redundancy on one side. Aside from 'accidental' ball collision, we only used classes with immunities (let's just call them Paladins) to clear balls during the regular phase. Then during blood rage, we'd go a little nuts trying to clear the room with defensive cooldowns and all that spare healing that wasn't directed at Hagrim. Repeat. Win.