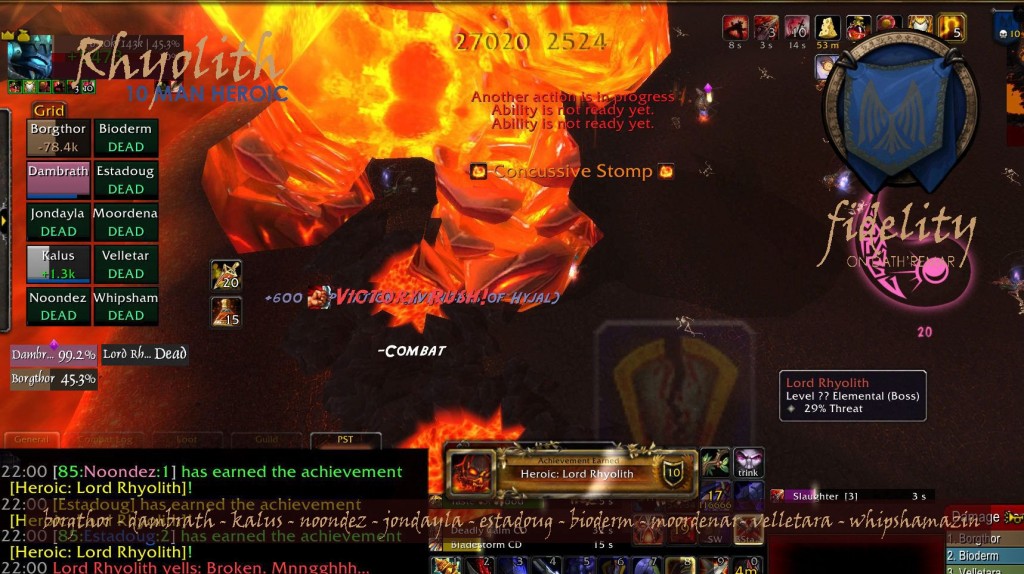 For heroic Rhyolith we ended up running 1 Tank, 2 Healers, 4 Melee and 3 Ranged. Four melee DPS wasn't planned, but worked really well in the end. Kalus, our regular discipline priest went shadow, and I finally got to test out my new 2H Mace fresh from the previous week's Ragnaros kill. I really enjoyed being so melee heavy, because i got to hang out at the back of Rhyolith's legs and AoE everything I could find, ably assisted by Velletara's traps and some additional ranged AoE when they got the chance.
From the action shot (UI and all) above, we were dropping like flies at the end of the fight as superheated stacked up. Our kill was 5m39s, which given how quickly superheated stacks up (the tooltip suggests 1 stack per 10 seconds, when in reality it's twice that speed) is probably the outside limit. We hit phase 2 about 7 seconds before our first stack of superheated, and were up to 8 when Rhyolith went down.
Steering Rhyolith on heroic is a lot tougher, since there is a lot more DPS going into the legs throughout the whole fight, and he turns a lot quicker as well. Missing active volcanoes and stepping on inactive volcanoes are far more punishing, particularly when you are relying on only two healers.