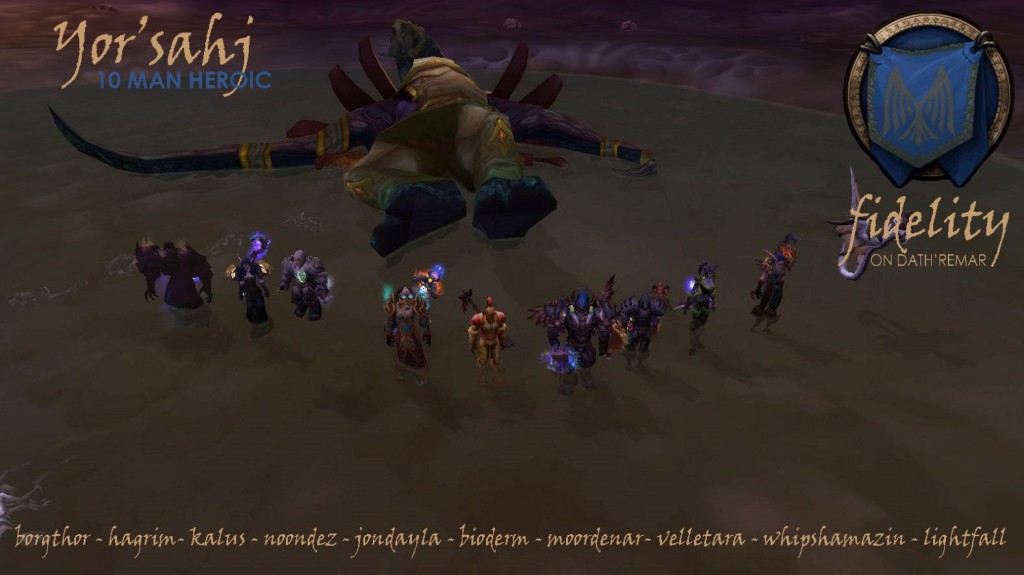 Heroic Yor'sahj was a nice step up in challenge after Morchok, even as we cringed at the 5% nerf that came so early. We used one tank (thanks again, Hagrim) only two heals and seven DPS. Dragon Soul has proven to be a little offspec heavy, and while Borg is used to donning his orange jumpsuit (thanks for the 'mog gear Whip), we pressed Kalus' shadow spec into service.
The four ooze heroic mode provided a nice change of pace. We endured many a pull of Red, Black, Yellow before switching to Red, Black, Purple. I highly recommend this strategy, since disciplined healing can cover the extra damage from red with the purple ooze up. That just leaves Red, Yellow, Black for when you kill Green with that combination. If you find your healers are getting ganked, ask your DPS not to drop threat on the second lot of black mobs.
Heroism and tank cooldowns are fantastic for the Red, Yellow, Black combination as there is a LOT of damage going out.
We left Moordenar (combat rogue) on the boss full time to assist with beating the enrage timer, which worked nicely.
Lastly I was super impressed by our DPS ability to kill the Blue mana void with the correct timing. On our first mana void, we'd blow an external mana cooldown, usually Kal's Hymn of Hope and leave the mana void alive. On the following combinations with blue, we'd kill off the original mana void *just* after the next one popped, giving our healers plenty of mana to work with. It wasn't always flawlessly executed while learning the fight, so prepare for a well deserved healer tyrade if you get that wrong.
The following week we one shot heroic Yor'sahj, so once you can sucessfully execute a strategy for each combination, unless you get paricularly bad strings of colour combinations, it's rinse and repeat.