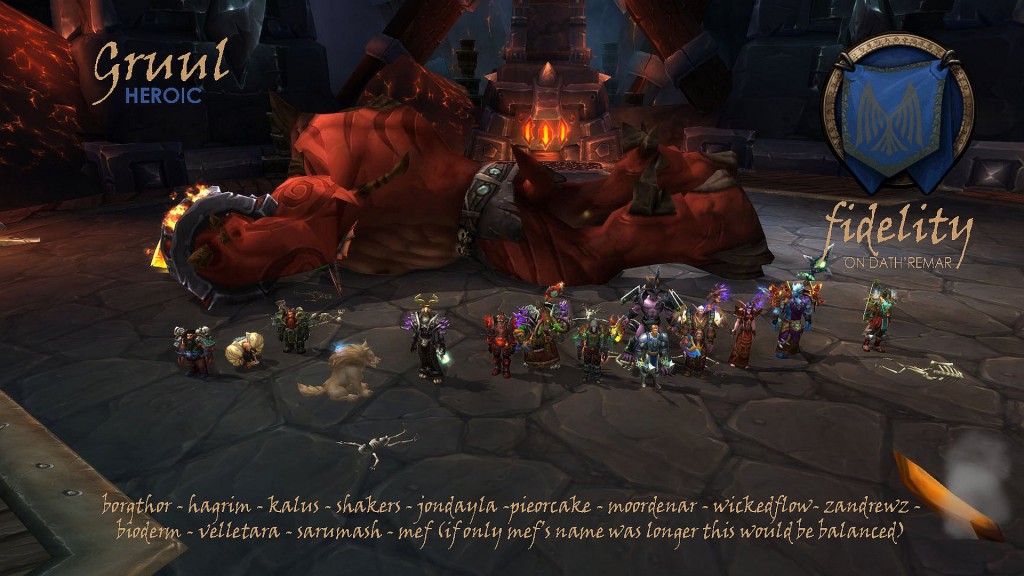 After picking up some new raiders (and friends) and hitting 7/10 in normal Blackrock Foundry, we were overdue for our meeting with Gruul on Heroic. Gruul didn't disappoint, hitting significantly harder than on normal and beating us about a little bit. However, little did Gruul know, the raid had become a little attuned to the difficulty of normal. Little by little our execution was refined and by the 9th attempt he almost felt like we switched it back to normal.
We had 13 raiders in for the kill, and while the flex mode system means we can take a variable number of raiders… it feels like our healers are bearing the downside of that flexibility. We have both over and under healed encounters which each has its own challenges. The highlight so far has been two healing Operator Thogar on normal for our first kill, with our two druid healers Jondayla and Shakers bonding over fast moving trains. Pieorcake has also switched from Elemental (or Enhancement) to Restoration depending the fight and attendance which has helped out too.
Onwards and upwards, we are coming for you, gorger of ore!