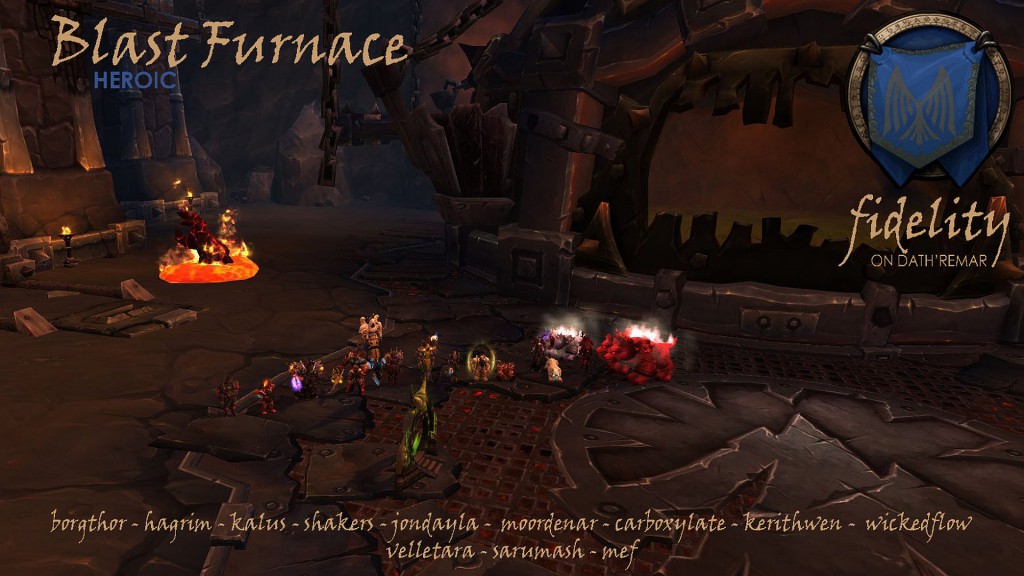 The dynamics of flexible raiding made every night different on Heroic Blast Furnace. For the first phase, we would split the raid with a variable lopsidedness on the Foreman's side. We burnt down the bellows operator, but left up the engineers to score bonus bombs before he dropped his sack.
While we had this phase running like clockwork, on the night of our kill we had about six pulls in a row that were a total cluster $#@%. We had both the second bellows operators at high health, not even needing a second engineer to die to close both regulators. In the ensuing chaos, we lost one or two people and it got worse from there.
However, when Shakers came online, the dynamic shifted. Wicked could get back to DPSing, and instead of 3 heals, 11 raiders… we had 3 heals and 12. With the extra DPS on Foremans side, we could be sure to make quick work of the bellows operator and get into the second phase in even better shape.
The impact of an extra DPS flowed into the second phase, with the primal elementalists being more consistently killed in one shield phase, and the firecallers dealt with quicker. A consistent frustration throughout progression on the boss was the struggle between getting to each elementalist quicker and dealing with the firecallers more efficiently. Particularly as the last elementalist died, how many firecallers remained alive, and how quickly they died.
Fortunately, on our usual last, heroic pull of the night, as the last elementalist went down, we had one firecaller almost dead, and the other got obliterated. Our DPS switched to the few remaining security guards quickly and we survived the initial onslaught of damage.
The tank damage in the last phase is crazy, with Heat ticks being most of the damage. Usually with tank swap mechanics you can afford to save resources for the next tank swap… but even off the boss active mitigation and cycling cooldowns were key to survival. Having said that, the first time we got into the phase cleanly, it was a kill.
Overall the difficulty was a giant step up from Iron Maidens, and despite taking over 70 attempts on the boss, it was comparatively a more decisive kill than the rest of the bosses in Blackrock Foundry as far as guild ranking is concerned. Sometimes it's just nice to know that when a boss is kicking you around, it's seriously messing other guilds up too.