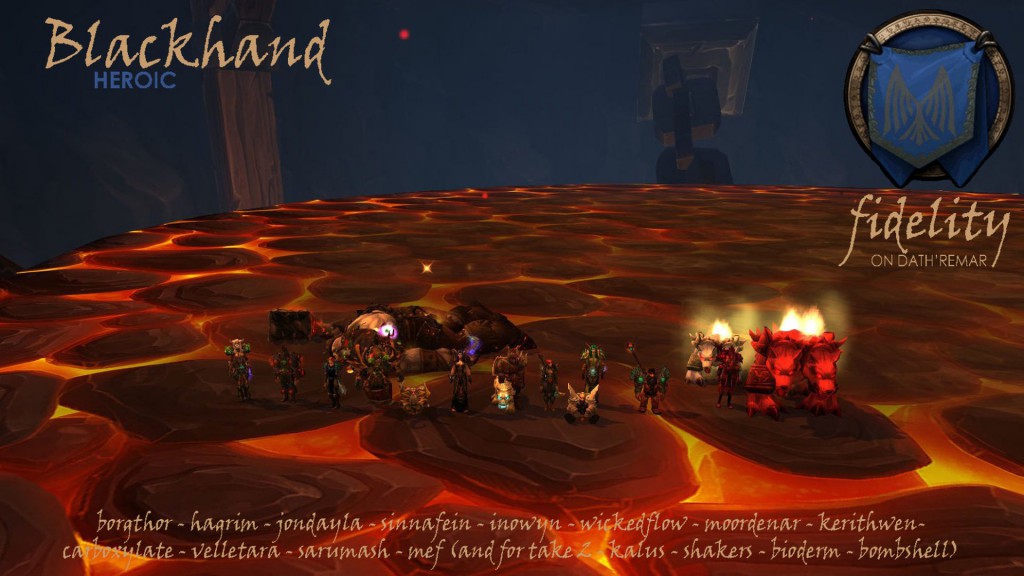 Blackhand was an epic struggle on heroic difficulty, but we finally managed to kill him on the first raid night on the last week before the patch… not once… but twice!
As evident in the screenshot above, our roster was variable each time we got to give Blackhand a pummeling. To make matters more interesting we probably had more changes in personnel in a given night on blackhand than on other bosses. There's nothing quite like seeing momentum stall half way through a raid night as we adjust. Hats off our healers and DPS that swapped specs at the drop of that hat.
We persevered, and even gave our newest healer the trial by fire to end all trials by fire (thanks Sinnafein for sticking it out). After 50 pulls, spirits were high. The first phase didn't seem so bad (but the deaths in this phase really started to sting after a while). The second phase seemed pretty brutal. As we came up on the 100th pull, we thought we'd done our time and a kill should be close if we all just executed well. That's when a missed impaling throw in the second phase started to sting… or when a Siegemaker killed too quickly one pull and then spread fire in the next started to really get under the skin.
We persevered… Over the course of the next 100 pulls, we got creative. Warlocks, jumping to the ledges to try and clear the first wave of Iron Soldiers. More healers. Less healers! Less and less and less people getting punted up to deal with the Iron Soldiers.
Finally it came to the Wednesday before what we were pretty sure was the last week before the patch. We only had twelve raiders. Jondy and Sinn were joined by Wickedflow and Inowyn in their offspecs for healing duty. I was confident that even four healing, the remaining damage dealers were up to the task. Crucial to this evening's strategy was having Esta (Carboxylate) have his unholy way with the Iron Soldiers, so the rest of the crew could concentrate on Blackhand and the Siegemakers. Between Esta's necrotic plague and my deep wounds, the Iron Soldiers both coughed up a lung and bled out very effectively, and if that wasn't enough Hagrim's shield to the face worked a treat.
We were into the third phase within an hour of the raid night, and we all knew that we finally had momentum towards a kill. It took us another hour to get back to phase three, frustratingly close to a kill. Two attempts later we were back there. Then, to more relief than joy, Blackhand fell.
After popping the bubbly, and having a great night's sleep… my bone deep understanding of how raid lockouts work bubbled to the surface. It's heroic. It's flexible. There's actually no reason we couldn't just kill him again the next night. So that is exactly what we did. We grabbed our four missing people from the previous night and faced off against Blackhand. True to form, the addition of four raiders prompted a completely different composition. Inowyn and Wickedflow went back to dealing damage. Shakes and Kal were back, so we stayed with four healers for a group of 16. Wicked was able to help out with the Iron Soldiers who were more numerous. With the confidence that comes from having already killed it, 10 pulls later we had our second kill.