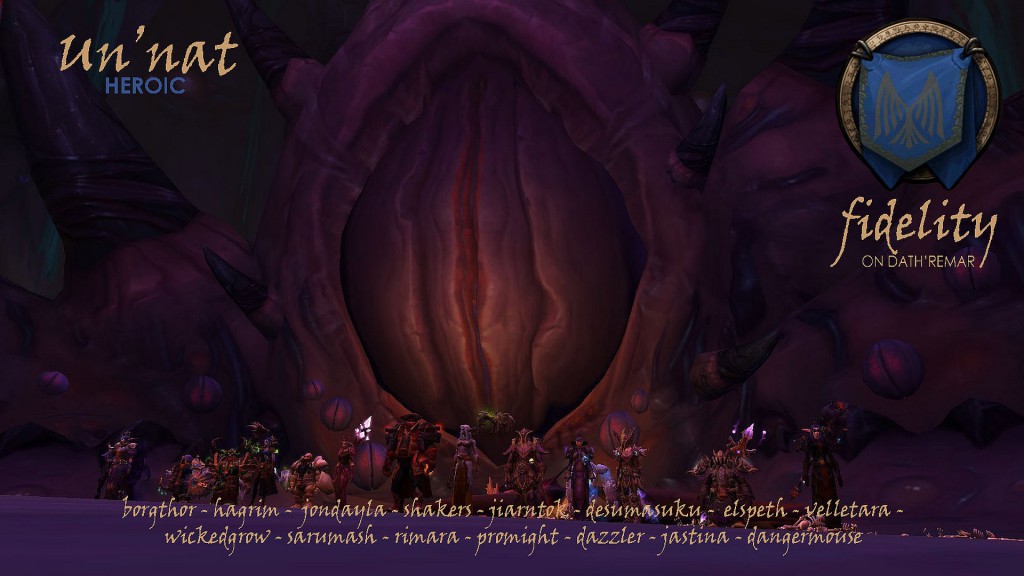 If you have been hitting refresh at fidelityguild.com/blog/ since September 2017, today is your lucky day! While the guild has been kicking ass and taking names, and killing all the heroic bosses while being forever at the 15 (+/- 3) mark for raiders each raid night… the blog has been deathly silent. We still have an active members forum, and our discord has a video of a corgi pulling a giant inflatable corgi in a pool… but no blog posts. Now that I think of it, the fact that everyone still lines up after a new heroic boss kill to take a photo is pretty fucking awesome. I love you guys. <3
The plan is to upload all the previous boss kill photos, but the amount of text that accompanies them will approach zero as we go back in time towards 2017. Guildies, please feel free to write comments, or hit me up with stories from those times so I can add that to the copy for that boss!
Heroic Un'nat. Crucible of Storms is one of Blizzard's unanimously unpopular "little raids", consisting of only two bosses. A myriad of visual effects, and an extra action button for each of the roles (Tanks, Damage, Heals) does not a fun raid make. The place was so uninspiring for us that we killed Heroic Restless Cabal on 18th April 2019, had a look at Heroic Un'nat on the 21st and then decided to leave Un'nat until… 26th May before looking at him again.
All in all we had 54 attempts with our kill clocking in a 7:15 with average iLvl 404.7 (Max: 410, Min: 395) with 15 raiders.
Our strategy with the trident (bubble), tempest caller (storm) and void stone (healer thing) ended up pretty straightforward compared to all the encounter ability interactions and synergies. We used bubble and storm together always. Once at end of phase one to kill two Undying Guardians and once toward the end of phase 2 to kill three. Important to note that for our kill we were down to only two Guardians being spawned in phase two before transition. The healer thing was always handled 1st and 3rd time by Jiarntok, and second by whichever other healer we had that wasn't Jondy. She owes her thanks to all of Teacurtsed, Shakers and Promight. That's it. The rest was down to practising the execution and dealing with a particularly punishing soft enrage in the last phase.