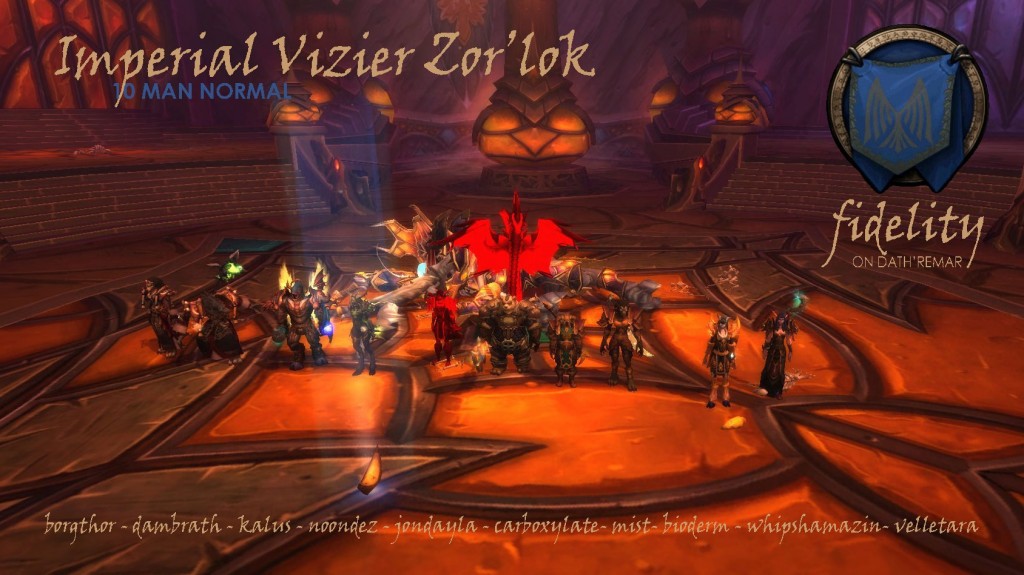 Imperial Vizier Zor'lok just destroyed us the first peek we had at him. It was the end of a raid night, we quite have our regular team and Force and Verve decimated us. We assigned our groups, got under bubbles and just blew up, if not for the first one, but the second. When we went back after finishing off Mogu'shan Vaults it was a completely different ball game.
For Force and Verve, we marked up our healers and had one healer and two DPS for one bubble, melee and tanks in the central bubble and two healers and one DPS in the last bubble. We consumed a modest rotation of cooldowns and got breezed through the phase. I think it was at this point everyone silently agreed that he was going down.
Attenuation took a little bit of practise, and the response to the patterns formed by the discs and the path through them was almost like a rorschach test. I think everyone has a preference for the direction they would like to move in, right?
For Convert, we had some interesting philosophical discussions about which cooldowns to blow before convert and which to keep for people that were converted. For example, is it better to use up a stun (on the boss, even though he is immune) before convert so that you can't use it to CC a guildie or save it to CC the guildie after they have been converted? Some of our conclusive discussions were:
Dambrath gets to save her CC because the tank doesn't get converted
Velletara needs to blow deterrence before convert (since it's really had to hit him through that)
Make sure you leave your list of abilities and pros and cons in the comments.
In the last phase, we found that the most important thing was to clear the converts quickly since there is usually another major mechanic just around the corner.